About Hufton and Crow
Dedicated to creating inspiring and striking photographs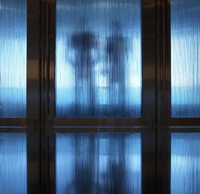 An Introduction
Hufton+Crow are dedicated to creating inspiring and striking photographs of contemporary interior and exterior architecture around the world.
As two experienced photographers with complementary skills and competitive characters they offer a unique service because they work as a team – either both simultaneously photographing one project, or by each providing input, critiques and direction of the others work. The outcome is a passionate attention to detail, the most creative approach possible and a reliable and professional service. Above all, it results in beautiful photographs that show buildings at their best – images that describe architecture within the built environment.
Hufton+Crow strive to create strong and lasting professional relationships, by listening and attending to their clients' objectives first. The breadth of their client base and the longevity of these relationships proves the efficacy of this approach. They shoot digitally, believing that it is the format that can provide the most benefit to the client. They also provide professional re-touching and post-production as part of the service.
© Hufton+Crow retain the copyright to all images displayed on this website. Please contact Hufton+Crow if you would like to purchase images.